Hert, here's a screen capture. Each step is also one nudge of the mouse wheel but, unlike yours, it moves about 8 rows with each nudge.
---
Its not the Mouse settings is it ?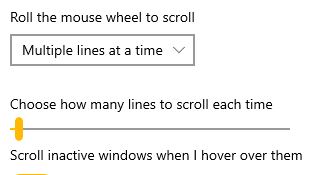 Geoff Mather (G8DHE)
---
No. PSU is the only app where this happens.
---
My experience is the same (threelines at one click from the mouse wheel). Change mouse setting does not help.
---
In build 2866 the mouse wheel behavior has improved. You can download it from the website
This is a User-to-User forum which means that users post questions here for other users.
Feature requests, change suggestions, or bugs can be logged in the
ticketing
system
---
Build 2866: Nice improvemend, Right after install scrolling seemed to be more smooth. Scrolled three lines at one click, just as I configured my mouse. Changed the mouse setting into one line per click. Had to restart PSu and than it worked as it should: one line per click.
I am happy.

Thanks for the fix Hert. I was gotten used to using the sidebar however this works more convenient.

BTW Changing mouse setting to 1,3 or 6 lines works fine. When I select screen however it scrolls 1 line again in stead of a screen. No big deal for me however if you can fix it?
Windows 10 and Logitech mouse with Setpoint app from Logitech.
---
Thanks, Hert, for fixing the mouse wheel scrolling issue! Works great now.
---